Check your local listing for dates and times
Please use magnifying icon below to enlarge listings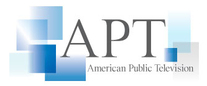 American Public Television is our U.S. broadcast distributor
American Public Television (APT) has been a leading distributor of high-quality, top-rated programming to the nation's public television stations since 1961. In 2014, APT distributed one-third of the top 100 highest-rated public television titles in the U. S. Among its 300 new program titles per year, APT programs include prominent documentaries, news and current affairs programs, dramas, how-to programs, children's series and classic movies. America's Test Kitchen From Cook's Illustrated, Rick Steves' Europe, Live From the Artists Den, Doc Martin, Nightly Business Report, Midsomer Murders, Vera, NHK Newsline, Lidia's Kitchen, Globe Trekker, Simply Ming, and P. Allen Smith's Garden Home join numerous documentaries and performance programs popular with public television viewers. APT licenses programs internationally through its APT Worldwide service. Now in its 10th year, Create® TV — featuring the best of public television's lifestyle programming — is distributed by APT. APT also distributes WORLD™, public television's premier news, science and documentary channel. To find out more about APT's programs and services, visit APTonline.org.

---